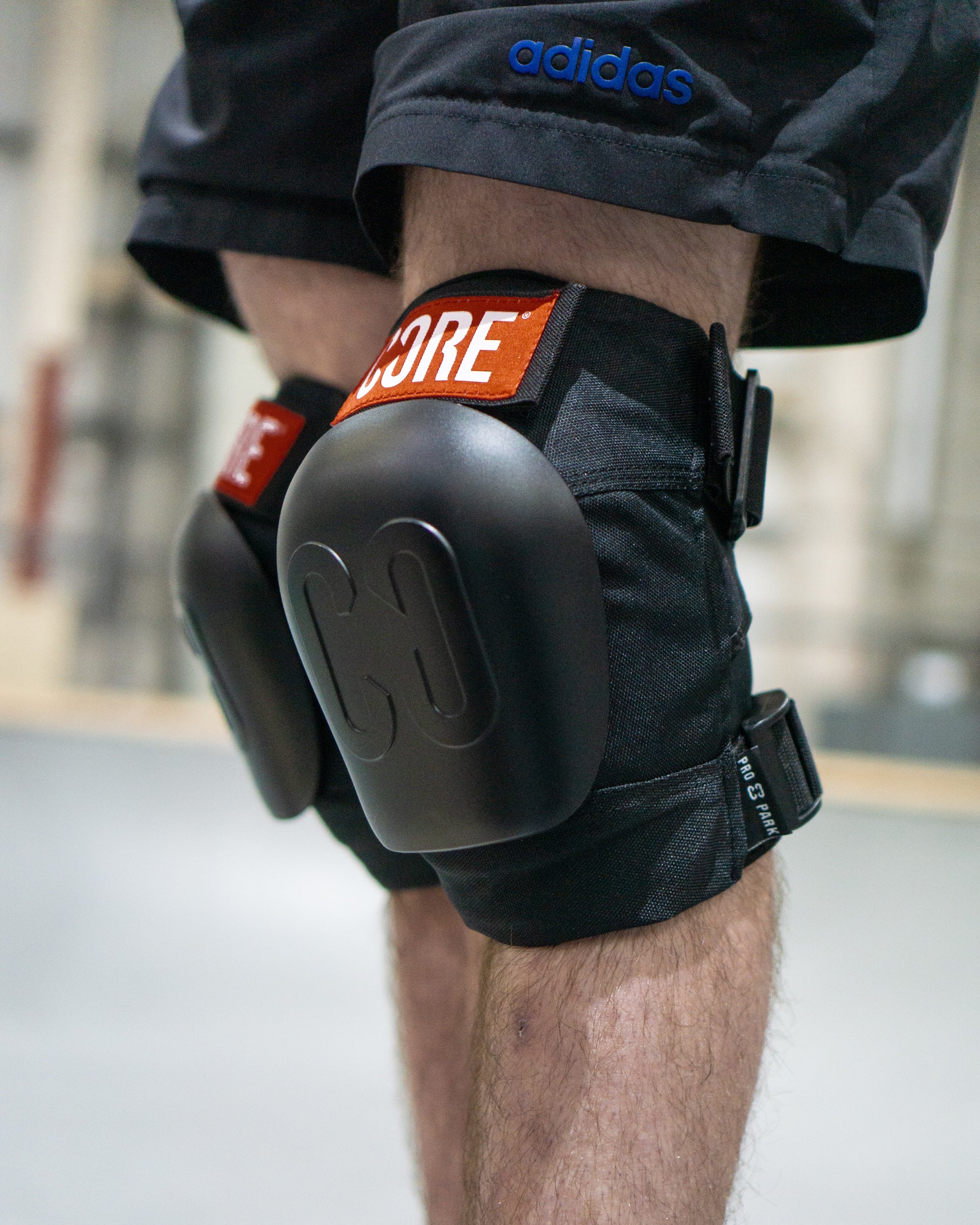 What are knee pads and what do they do? 
Knee Pads are an essential product for any skatepark rider. They are a form of protective clothing that fits around your knee. They are made up of specialist foam and often with a plastic cap. Knee pads are essential in keeping your knees and legs safe when skating/riding. 
Falling to your knees is the most common things when failing a trick on your board, bike or scooter. This of course means that knee injuries is one of the most common in action sports. We always advise that you wear pads when you ride. If you are riding large ramps at the skatepark we strongly recommend you have the correct protection. 
Knee pads are the most essential part of your protection gear. They will protect you against the heaviest of slams and crashes. It is definitely worth the investment. Whether you are a beginner and just starting out or a professional athlete purchasing a set is a seriously smart move. 
CORE Knee Pads
At CORE we produce some of the best knee pads in the game. We have multiple different knee pads to offer such as our Pro Park Knee pads with interchangeable caps, to Our Pro gasket which fits under jeans for a slimmer look. Along with our Knee pads, we also have a selection of Pad sets which include elbow pads too. 
All of our Knee pads come fitted with the best EVA foam to mould perfectly to your knee. This not only gives you the comfort you need when riding but also the confidence. You can ride to your full potential when you know you're fully protected. 
What size Knee pads should i buy?
Making sure you get the correct size knee pads is very important. They must well in order for them to work properly. When trying them on make sure they do not restrict your movement and motion of the knee joint. If they are too tight then you will find it difficult to move your leg and this will make riding uncomfortable. If they fall down and move around a lot when fully tightened then they are too big. 

Follow these steps below and refer to our size guide below to purchase the perfect size.
1) Using a soft tape measure, wrap it around the area shown in the diagram. Just above the knee. 
2) Then measure just below the knee. Once you have these two measurements then you're ready to choose your size. 
*if you do not have a soft tape measure use some string and measure it against a ruler. 
CORE SIZE GUIDE 
CORE Pads are made using a variety of materials. All the pads have a degree of elastic in them to allow for stretch and maximum comfort.
*Measure 10cm above/below the centre of your knee cap*
Tested by the BEST!
Like all of our Protection, Our Knee Pads have been tried and tested by Pro Riders Jamie Hull and Jack ward. These guys undoubtedly throw down seriously hard and have put these knee pads through it all so you know they will be strong and durable. We want to make sure our pads are the best out there so if they can withstand the abuse from our Pro Team then you know they will last!