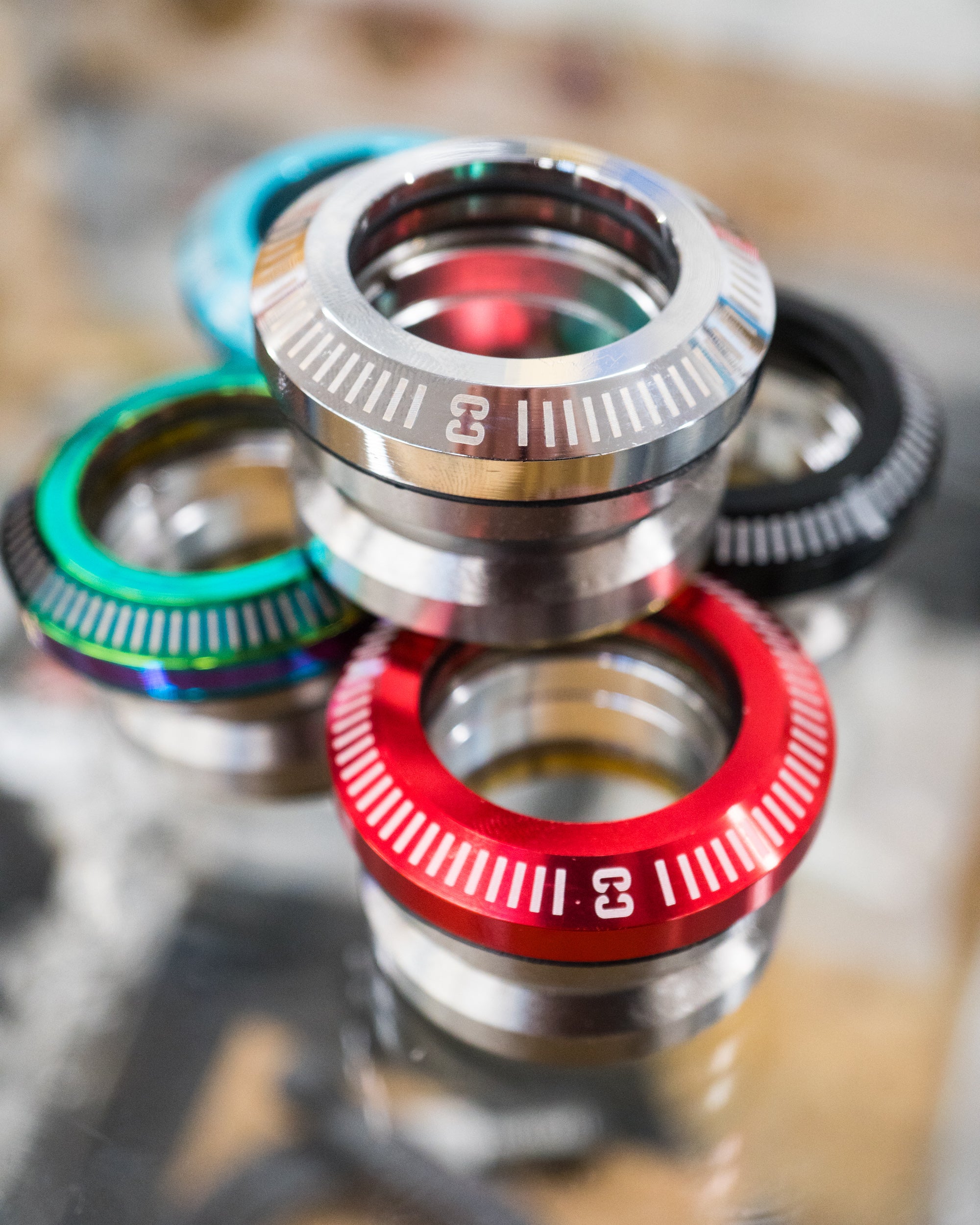 What is a Scooter Headset and what do they do? 
Firstly a Stunt Scooter Headset is a very important component to your scooter. This allows the scooter to spin and fits in the headtube of the scooter deck. All experienced and Professional riders know that this is an essential part that needs TLC. 
Secondly 5 seperate peices tend to make up a standard threadless Stunt Scooter Headset. Two 1 ⅛ inche Ball Bearings, One compression ring that fits between the bearing and fork, a Crown race (which isn't always needed) and a Top Cap. The Top Cap is primarily used as a dust cover and on the other hand a sort of spacer between your clamp and bearings. 
Furthermore there are a couple different versions of Stunt Scooter Headsets such as integrated (threadless) Threaded and semi Integrated. A Fully Threadless headset is the best and most common Headset on the market. Our Dash Headset is fully threadless. 
CORE Dash Headset
If you want optimum performance and therefore don't want to pay ridiculous prices the CORE dash Stunt Scooter Headset is perfect for you. Headsets are an essential part of anyone's bike or scooter. Don't comprimise your tricks and mobility with a poor headset and make sure you cop a Dash Headset today! Our headsets use a pair of single shield bearings for extra strength, this helps prevent bearings coming loose or "popping" which can happen easier in a double shield bearing. A taller compression disk to prevent top cap rub. For an affordable price you can't go wrong. 
Stunt Scooter Headset Maintenance
You need to look after your Stunt Scooter Headset as its one of the most important components.  It's crucial that no dirt and or water gets into your headset. This can be really damaging to the internal bearings and therefore create problems with the performance of your scooter. For Instance we recommend cleaning and lubricating your headset bearings regurarly to prolong its life. 
To conclude, if you are looking for a good quality Stunt Scooter Headset then look no further. At CORE we have you covered. Check out all our other Scooter parts here.