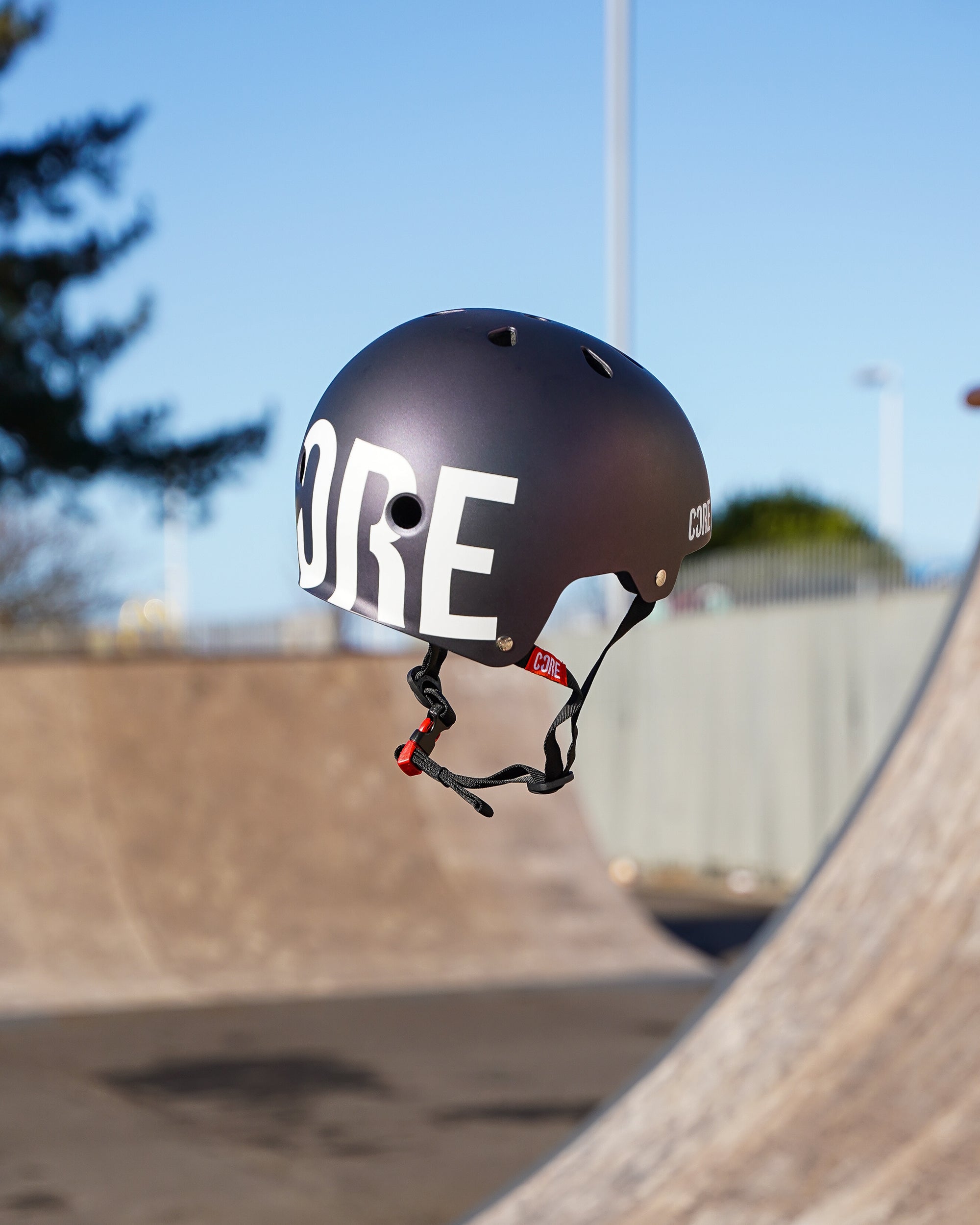 CORE Helmets | CORE Street Helmet | Skate Helmets
Skate helmets are an essential piece of safety gear for skaters of all levels. Not only do they protect your head from impacts, but they also help to prevent serious injuries and even death. CORE Protection is a leading brand in the world of skate helmets, offering a wide range of high-quality, stylish, and affordable helmets for skaters of all ages.
One of the standout features of CORE Protection helmets is their lightweight design. Made with advanced materials and construction techniques, CORE helmets are some of the lightest on the market, making them comfortable to wear for long periods of time. This is especially important for skaters who are constantly on the move and need a helmet that won't weigh them down.
In addition to being lightweight, CORE Protection helmets are also incredibly durable. They are built to withstand the toughest impacts, thanks to their hard outer shells and shock-absorbing liners. This means that you can trust your CORE helmet to keep your head safe, even in the most extreme skating conditions.
Another great thing about CORE Protection helmets is their stylish designs. Whether you're looking for a classic black helmet or something more colorful and vibrant, CORE has a helmet to suit your personal style. They also offer a range of sizes and fits, so you can find the perfect helmet for your head shape and size.
So why choose CORE Protection for your skate helmet needs? In short, CORE helmets are lightweight, durable, stylish, and affordable. They are a trusted brand in the world of skate helmets and have helped to protect thousands of skaters from head injuries. Plus, with their wide range of sizes and designs, you're sure to find a CORE helmet that you love. Protect your head and stay safe on your skateboard with CORE Protection helmets.
CORE Helmets have become the industry standard in skateboard helmets Stunt Scooter Helmets, BMX Helmets, and kids helmets. Our Skate Helmets are the only helmet you need for hitting up the skatepark, riding your bike, BMX or skateboard.
CORE Street Helmets and CORE Action Sports Helmets are available in a variety of colours to suit anybody's style and come in multiple sizes to ensure you get the perfect fitting skate helmet for your head. Make sure you check our size guide for extra details. 
The highest quality materials and manufacturing techniques to ensure our helmets are the best possible product. We comply with all industry standards to make sure CORE helmets keep you safe whilst riding. 
CORE Skate Helmets
We have a 15 year background in action sports and skate safety so when it came time to us make our helmets we wanted to ensure we made the best helmet possible. A lot of airmiles and trips to our factory wee required to ensure the highest quality skate helmet could be made. When you're shopping for protection items like helmets and pads, it's important to go for quality. #RIDECORE
Helmets are one of the most important pieces of your protection gear and arguably the first thing you should get before you ride!  
Why Are Skate Helmets Essential? 
Action Sports are very dangerous. Therefore it is important that we protect our heads. This means that a Skateboarding helmet is arguably the most essential thing you need other than your ride. And this goes for all sports. Whether you're skating, Bmxing, Scootering or anything else that involves wheels for that matter you need a helmet. They come in all shapes and sizes. There's bike helmets for kids, Cycling helmets, Skateboard helmets and even motorbike helmets. Although they are most likely not the best option ;) 
Whether you're a beginner or a professional athlete, everyone needs to protect themselves and wear a helmet.  Our Helmets have been designed with not only safety, but also comfort and style in mind. They won't obstruct your comfort or get in the way of your riding. Meaning if you choose a CORE helmet, you can progress no matter what skill level you are. 
So what's the difference between a Skate helmet vs your average cycling helmet?
Now both of these helmets are very similar and they do the same job in keeping your head safe, however, there are some key differences between the two. Skate Helmets are multi impact resistant meaning they can withstand multiple knocks and bumps from impacts whereas a cycling helmet cannot and needs to be replaced after just one incident of impact. 
The overall shapes of the two types of helmets is very different too. The back of your head near the neck is mainly where skate helmets cover, but cycle helmets don't tend to do this. 
Another difference between the two helmets is the testing standard and the approval stamp of them both. Our Action sports and Street Helmets have been Approved for all Skating, Cycling, Skateboarding, BMXing and Scooters. 
Our Helmets Are certified with the certificate EN 1078, Which approves this helmet for all the sports listed above. So if you were to purchase one of our helmets you know it's going to be certified and ready for all action sports! 
How to wear a Skate Helmet Correctly
To make sure your Skate Helmet protects you the best it can you need to make sure that it fits correctly. We offer 3 different sizes for all of our helmets and they come with a second set of padding to make sure you can find the perfect fit. 

These are the three different sizes we offer so it's important you measure your head to make sure you buy the correct size. To do this you will need to measure around the circumference of your head just above the ears and eyebrows, like the red arrow in the diagram above. 
Your helmet should fit snug and not move around when you shake your head without it feeling uncomfortable. 
How Long Do Bike Helmets last?
Our Helmets are super strong and durable but unfortunately they do not last forever. This is why it is very important to always check on your Bike Helmet/Skate Helmets condition. If there are any signs of damage then you should replace your Helmet right away. You should also make sure that the buckles, rivets and straps are also in great condition, especially before you ride. 
When should I replace my Bike Helmet?
All Helmets must be replaced after every serious crash, even Motorbike helmets need to be replaced the same as a Skate Helmet. This also applies if you cannot directly see any damage to the helmet. Damage can occur underneah the outershell on the EPS foam layer of the helmet. without any obvious signs. If there is any wear to the EPS foam then you just replace the helmet immediately. 
If Your Bike Helmet or Skate Helmet hasn't suffered any damage we also recommend that you replace your helmet every 5 years. 
This is also very important for kids helmets. You need to make sure that your helmet fits correctly and therefore will need to keep up with growth. 
This is how you should check your Helmet for damage. 
If any of these situations are familiar and apply to your helmet then it is time to replace your lid.  
Is the plastic outer layer cracked, heavily scraped or dented?

Look closely and examine the shell to see if you can find any small cracks or dents. 
Is the Inner Shell (EPS FOAM) compromised in any way?

Look to see if the inner foam has any cracks. You may need to remove the padding to do this properly. 
Does the Outer Shell move separately to the EPS foam?

If the hard outer shell moves freely from the rest of the helmet then it's time to get a replacement. 
Are the Buckles and Straps working correctly?

Make sure that the straps have no rips and are connected to the helmet properly. Also, make sure the buckle works and is tight when fastened. 
Skate Helmet FAQs
Do Skaters wear helmets? Yes, Skaters do wear helmets. In fact, some of the best skaters in the world still wear skate helmets. And it's not just skaters, all action sports professionals wear helmets. 
What size skate helmet do I need?

Make sure to check out our

size guide

here, to find out what size helmet you need. 
How tight should a skate helmet be?

Your helmet should be tight but comfortable. You should be able to shake your head without your helmet wobbling around. If it fits snug and isn't uncomfortable then that's a good fit! 
What are the benefits of wearing a helmet?

Mainly, to protect yourself from some serious injury. You only have one head so you may as well look after it! 
Which helmet is best?

Our

CORE Street Helmet

is the best helmet we have to offer. With its new LUXE padding that absorbs sweat and gives the ultimate fit. For only £49.95 you can't go wrong!