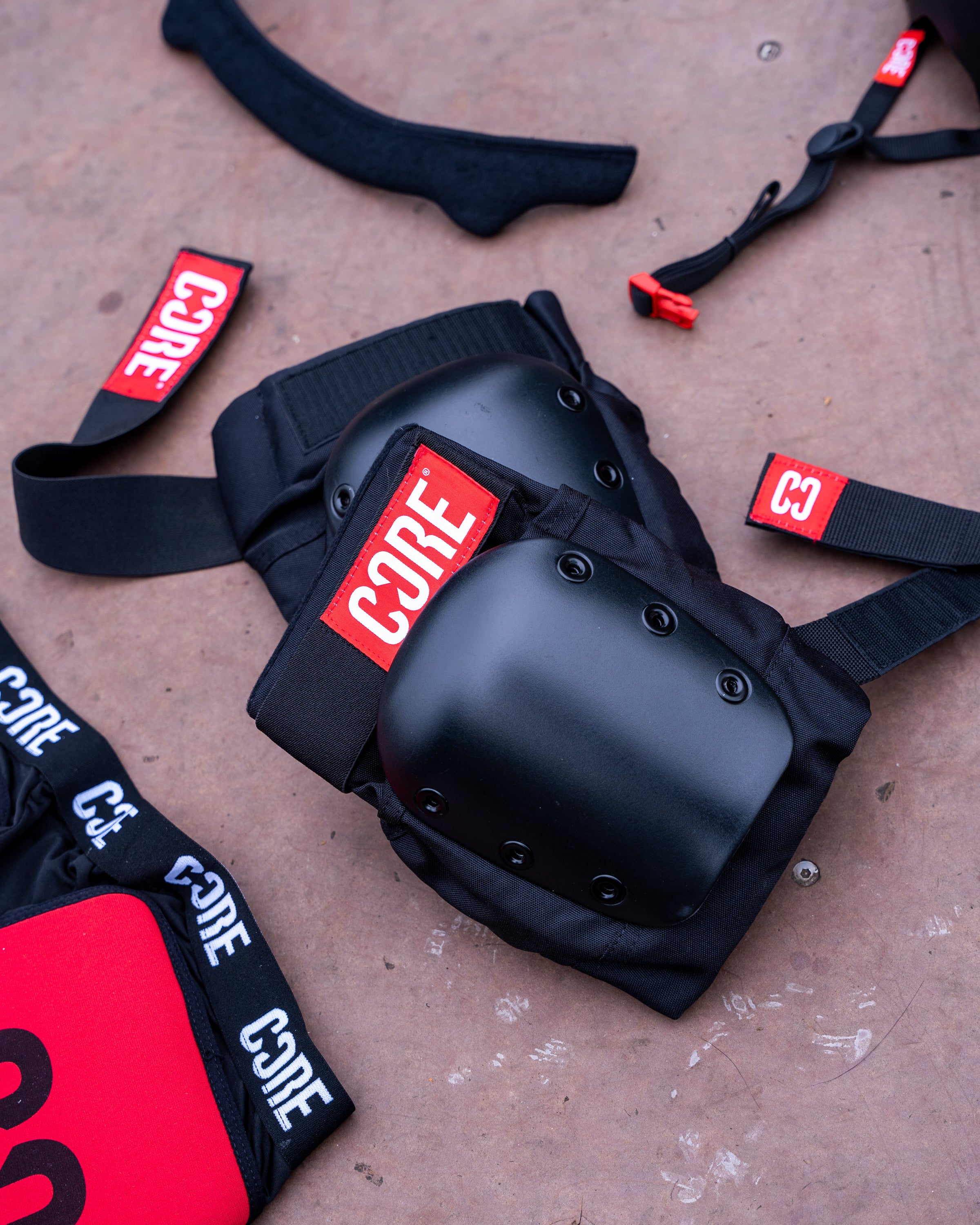 At CORE we don't just make the best scooter parts! We also produce some of the best protection gear on the market. We've got your covered, from Fuly certitifed helmets to super comfy ankle protectors. Absolutely everything we produce goes through all the mandatory industry certification safety tests in order to ensure you are fully protected when riding. When you're wearing our protection you know you're going to be safe. 
CORE Helmets have become the industry standard in skateboard helmets, Stunt Scooter Helmets, BMX Helmets, and kids helmets. Our Skate Helmets are the only helmet you need for hitting up the skatepark, riding your bike, BMX or skateboard.
CORE Street Helmets and CORE Action Sports Helmets are available in a variety of colours to suit anybody's style and come in multiple sizes to ensure you get the perfect fitting skate helmet for your head. Make sure you check our size guide for extra details. 
The highest quality materials and manufacturing techniques to ensure our helmets are the best possible product. We comply with all industry standards to make sure CORE helmets keep you safe whilst riding. 
Knee Pads are an essential product for any skatepark rider. At CORE we produce some of the best knee pads in the game. We have multiple different knee pads to offer such as our Pro Park Knee pads with interchangeable caps, to Our Pro gasket which fits under jeans for a slimmer look. Along with our Knee pads, we also have a selection of Padsets which include ebow pads too. 
Like all of our Protection, Our Knee Pads have been tried and tested by Pro Riders Jamie Hull and Jack ward. These guys undoubtedly throw down seriously hard and have put these knee pads through it all so you know they will be strong and durable. We want to make sure our pads are the best out there so if they can withstand the abuse from our Pro Team then you know they will last! 
All of our Knee pads come fitted with the best EVA foam to mould perfectly to your knee. This not only gives you the comfort you need when riding but also the confidence. You can ride to your full potential when you know your fully protected. 
Gloves

CORE Protection brings you one of the best riding gloves you will ever use! With our Skin Fit design you will forget you have gloves on whilst riding without sacrificing performance. All our gloves are touch screen friendly so you can keep your Instagram game strong without taking your gloves off, *just make sure your following @coreuk ;-)* Designed for maximum comfort and performance the CORE gloves improve grip, reduce sweat and keep your hands warm whilst riding. CORE's grip enhancing design allows for maximum feel and responsiveness whilst riding without having a bulky glove on your hands. Change the way you ride with CORE Gloves!


We have two different types of ankle protectors. The Ankle guard which is a more heavy duty brace that is firmer and will protect you against heavier crashes. If you want 100% protected from your achillies getting bashed then you need these! Our Ankle sleeve is a more flexible lightweight protector that will act as a more protective sock. With its slim fitting design you will hardly be able to tell you have anything on. 
We've all been there, you clip your ankle on a whip and it feels like your feet are going to fall off. Not with these bad boys! The CORE Ankle guard has a reinforced ankle cap for those sensitive ankles of yours, so you can learn those whips without fear of swollen ankles. A red elasticated foot strap keeps your guard snug in place and a little cushion on the rear of your ankle provides that extra bit of protection. One size fits most designs. You don't have to worry about buying the right size. 
Made from high-grade stretch neoprene with a shock-absorbing insert covering your ankles these bad boys are perfect for that rider that doesn't want bulky ankle pads but still needs protection.  With its sock-like design you can slip these pads on over your socks and benefit from the ankle protection and extra support it gives your ankle.
Protective Shorts, it's a sensitive subject. People either love them or hate them, but if you've ever had "that fall" then you know the pain. The CORE Stealth Impact Shorts have been developed to provide maximum protection without the bulk so you don't have any restriction when riding but maintain maximum protection.
The CORE Stealth Shorts have a slimline profile so you can fit them under your jeans/joggers/shorts/leggings without anyone knowing you have them on.
Made from super stretchy Lycra material. This is perfect to allow the pads to fit the shape of your body whilst riding. You will forget you're wearing these short whilst riding, but super happy you have them on when that fall happens
Protect your teeth! CORE Protection is proud to present our action sports mouth guard. Made of top-quality impact absorbing materials that will protect your teeth, gums, jaws and brain from harmful, jarring impacts. These Impacts. are sometimes unavoidable whilst participating in action sports such as stunt scooters, BMX and MMA Fighting. This gum shield can be moulded to your teeth, for an easy-to-use comfortable fit unique to your mouth. This mouth guard has been designed to provide unobstructed mouth breathing whilst providing maximum protection.