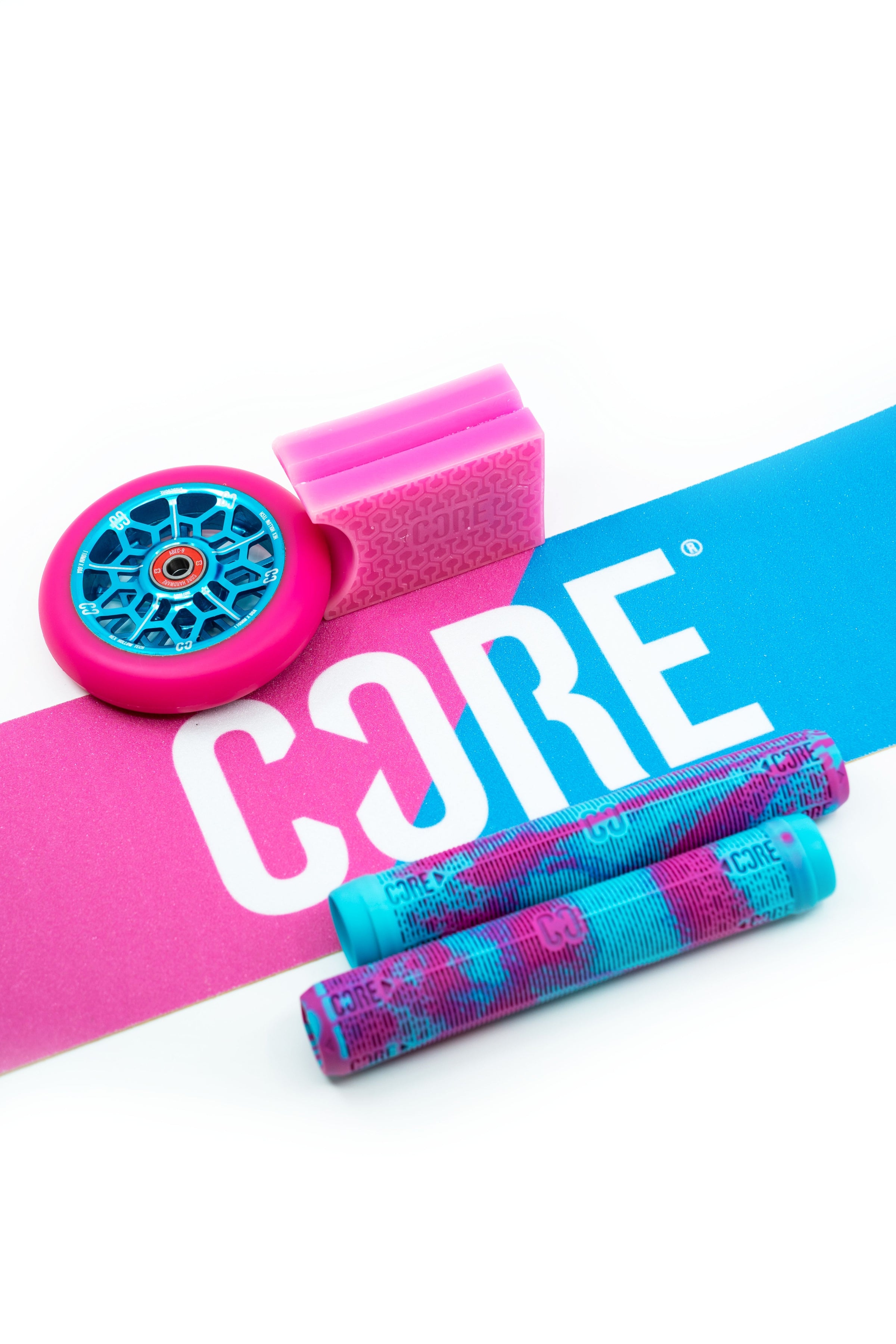 Stunt Scooter Parts 
CORE Unquestionably prides itself on making some of the best stunt scooter parts in the industry. We make sure all of our products meet the demands of the most advanced riders on the planet. To do this we have had everything tried and tested by our Pro Team. 
From Titanium Bars to Wheels along with Grips along with other hardware. We make everything you need to build your dream scooter set up. 
Scooter Handlebars
CORE has become especially renowned for making the best titanium scooter bars on the market. To ensure a strong and smooth ride we use the best manufacturing techniques and above all the highest possible quality materials for our Titanium bars. CORE Apollo & Nova Bars come in at 680mm as well as 630mm high. 
Titanium, Steel or Aluminium, if they're CORE, they are certainly the best. The ST1 Steel (chromoly) T bar is not available aftermarket however it is featured on our ST1 Complete Stunt Scooter. Perfectly Balanced between strength and weight which as a result makes up the key features of the SL aluminium bar. They are available both on our SL1 Completes and aftermarket. You can purchase them for as little as £54.95, which is great if you are looking for an affordable upgrade. 
Stunt Scooter Decks 
Firstly Scooter Decks are a key component of any stunt scooter. They are usually the heaviest component to your scooter. All CORE decks are strong but lightweight. Street riders will typically prefer a wider and longer deck to make grinding ledges and rails easier, therefore the CORE ST range is designed for this style of riding. On the other hand a skatepark rider will prefer a lighter and shorter deck to allow them to save weight making it easier to perform tricks in the air, the CORE SL range is designed for park riding.
ST1
Secondly the CORE ST1 Scooter Deck features a lightweight design to help increase riding performance which consequently optimizes foot space with a 5.7 wide x 22 long deck. With 2 weight-saving cutouts across the centre of the deck. A flush blunt plate for easier slides on those nose blunts and grinds. An integrated peg system with a built-in bolt groove to hold the rear axle. As a result of this this you only need one 6mm Allen key to tighten your scooter. Most importantly we have definitely put this deck through it. From roof drops to rails our Pro team have really put it to the test. 
SL1
Thirdly the CORE SL1 Scooter Deck is designed with skatepark riders in mind. Engineered from the ground up to be one of the lightest stunt scooters on the market. Coming in with 2 size options, 4.5" x 19.2" and 5" x 20" you're about to unlock all those tricks you've been trying! Constructed from 6061 Aluminum (the stuff they make space ships from) you know it's going to be super strong and light. Skatepark riding was the main aspect behind the design process of this deck. For example if you pair this deck with a set of our CORE Titanium bars for the ultimate lightweight setup.
Stunt Scooter Wheels 
Moreover High quality, lightweight aluminium makes up our Hollow cores. Our Wheels are far more Shock resistant to other wheels. The metal CORE is then bonded to our custom Polyurethane material to improve your grip and responsiveness. Above all else our wheels come pre-loaded with our own CORE bearings to give you that super smooth ride.
Wheel sizes and compatibility can be a tricky obstacle to overcome. Almost all 110mm wheels will fit any brand of stunt scooter. Only a handfull of scooters will be able to fit 120mm wheels. To clarify the ST1 and SL1 Is 120mm compatible. Most importantly you need to make sure your wheels are compatible with your scooter before you buy your new scooter wheels. 
We offer the Best and Lightest Wheels on the Market. We have a wide range of colour ways meaning your spoilt for choice. 
Stunt Scooter Clamps 
Furthermore we provide Clamps for all compression systems. IHC, HIC and SCS.

The CORE SL Double Bolt Clamp is the perfect lightweight clamp for your set up, weighing in at just 91g (with bolts). A shim comes included with all of our SL Clamps, allowing you to use standad size bas with them. 
CORE Squad SCS 4 Bolt Clamp is the only SCS you need to keep your bars and fork perfectly inline. The Squad SCS also comes with a size reduction shim to allow this clamp to fit both standard size bars and oversized bars.
Stunt Scooter Forks 
The CORE Stunt Scooter Forks have been designed for the avid skatepark or street rider that wants to have a lightweight and strong fork to complete their setup. Cold forged for extra strength and especially  durability with weight-reducing cutouts for that super stable ride. The CORE SL Fork also comes complete with 6mm hardware for easy maintenance and a reduced chance of bolt stripping with a nut grove pre-moulded into one side of the fork, so you only need 1 Allen Key to tighten your wheel! Ships with IHC compression shims and bolts.
Stunt Scooter Headsets
The CORE Dash headset has been designed for riders that want optimum performance without paying crazy money for a headset. Its without a doubt that your headset is an essential part for your scooter. Without a good quality headset your scooter will not be able to perform to the best. The "Dash Headset" is rider approved and tested.
Our headsets use a pair of single shield bearings for extra strength, this helps prevent bearings coming loose or "popping" which can happen easier in a double shield bearing. A taller compression disk to prevent top cap run.
Stunt Scooter Grips 
We spent over a year developing this grip to make it perfect. The Unique Suer soft compound means our grips get softer overtime. The grip is 170mm in length with a structural design to maximise grip and reduce shock. Tapered ends keep your hands in check and premium bar ends to keep your bars as fresh as the day you got them. Grips available in 8 colours. Time to update your ride.
We have developed our CORE Pro Handlebar grips to fit perfectly onto all scooters and bikes using a super soft and comfy compound with universal design. 100% custom designed to fulfil the needs of action sports riding. Premium design and materials throughout.
Stunt Scooter Bearings 
CORE's super-smooth bearings are the perfect option for anyone looking to upgrade their wheels. Tested by the CORE Pro team you can ensure these bearings can handle whatever you throw at them. All CORE bearings come pre-lubricated with our low viscosity oil to ensure a fast and smooth ride from the very first session. Bearings are an essential part of anybody's skate, scooter or skateboard. A fresh set of core bearings can help you get the maximum performance out of your equipment. 
To sum up we have all the Scooter parts you need to freshed up your ride and even make a complete custom build. Above all you know that if your purchasing Core hardware then you know your buying from a Scooter Brand that not only puts the best into their product out also buts back into the scooter industry.