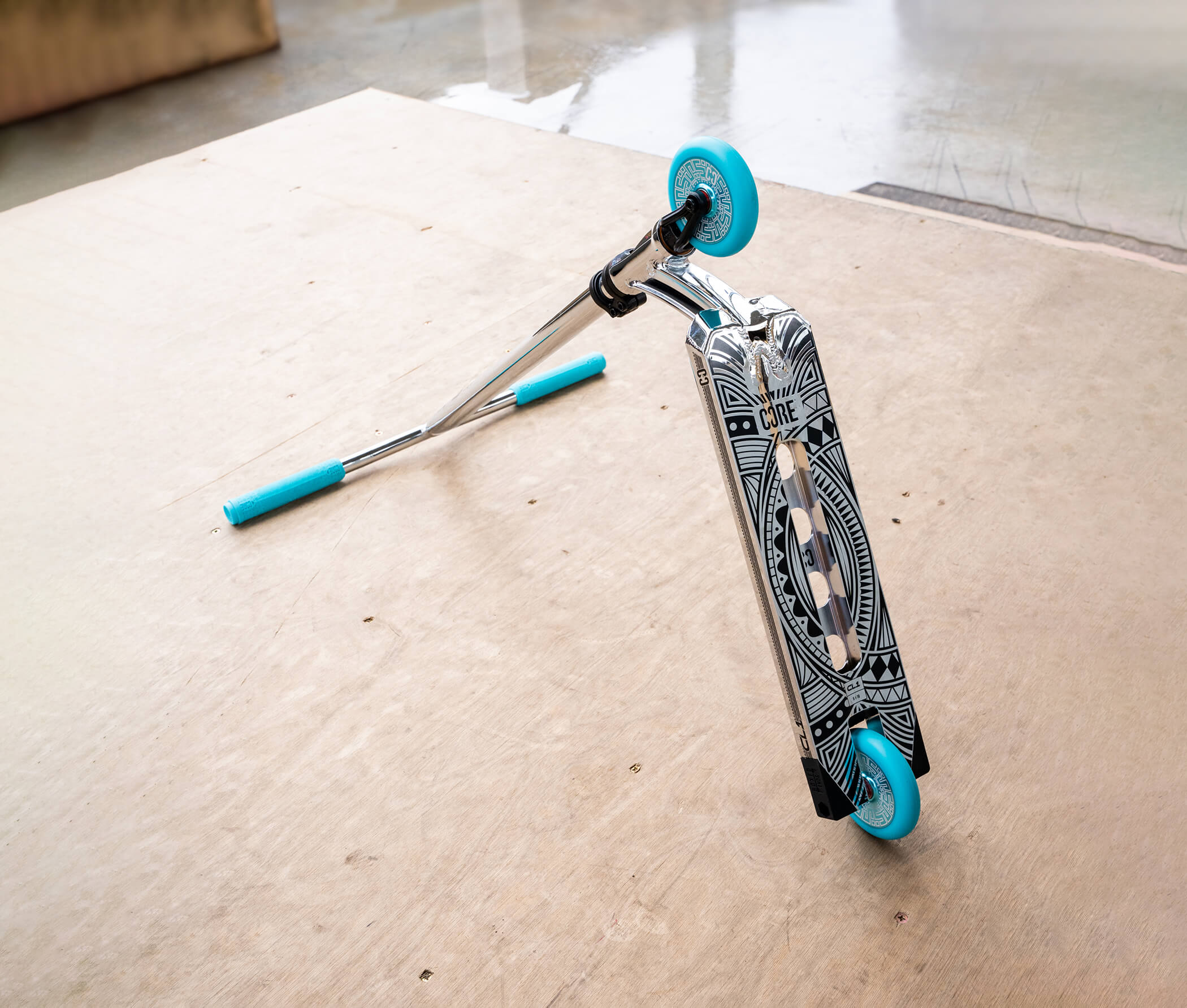 CORE CL1 Pro Stunt Scooters
Looking for the lightest stunt scooter that can handle your best tricks? Look no further than the CORE CL1 Scooter collection. Our CORE CL1 Complete stunt scooter in chrome/teal is 90% pre-built and ready to ride straight out of the box. With only the bars left to slot in and tighten, you'll be shredding in no time.
The CORE CL1 Complete Stunt Scooter Features top-of-the-line components that make it perfect for stunt scooter enthusiasts of all levels. The handlebar is made of 6061 aluminium and measures 620mm wide by 620mm tall, while the grips are the new Core 170mm Slim Grips that provide maximum grip and durability. The CORE SL Double Bolt Clamp 6mm Hex Bolts keeps everything securely in place, while the CORE Stack Integrated Headset with Sealed Bearings provides a smooth ride.
The CORE Steel Fork is 110mm wheel compatible, and the IHC compression system is ideal for hard impacts. The CORE Aftermarket Hollow Cores wheels are durable and able to handle even the toughest tricks, while the CORE Premium ABEC 9 Red Bearings provide maximum speed and smoothness. The deck is 5" wide by 19" long with weight-reducing cutouts, while the head tube has an 83° angle with weight-reducing cutouts as well.
The CORE Nylon Single Bolt Scooter Brake ensures safe stopping power, while the CORE Aftermarket Premium Grip tape provides a comfortable and secure ride. At just 3.45kg, the CORE CL1 Scooter is one of the lightest stunt scooters on the market, making it perfect for young riders and adults alike.
Designed for balance and manoeuvrability, the CORE CL1 is an excellent option for anyone looking to upgrade to a pro scooter at a reasonable price. It has been tested by our professional team, ensuring that it's built to last and can withstand even the toughest tricks.
Featuring CORE's premium aftermarket parts, you know you're getting the best value for your money. Every component, from the grips down to the axles, is made with the highest quality materials to ensure the best possible stunt scooter. Our new slim grips provide a comfortable ride that lasts, while the SL deck features interchangeable nylon square dropouts that give you the option to choose between different riding styles.
With its weight-reducing cutouts and advanced components, the CORE CL1 is the perfect choice for anyone looking to take their scootering skills to the next level. Try one out for yourself and see why it's one of the best complete stunt scooters on the market today. Get your CORE Stunt Scooter today and start shredding!