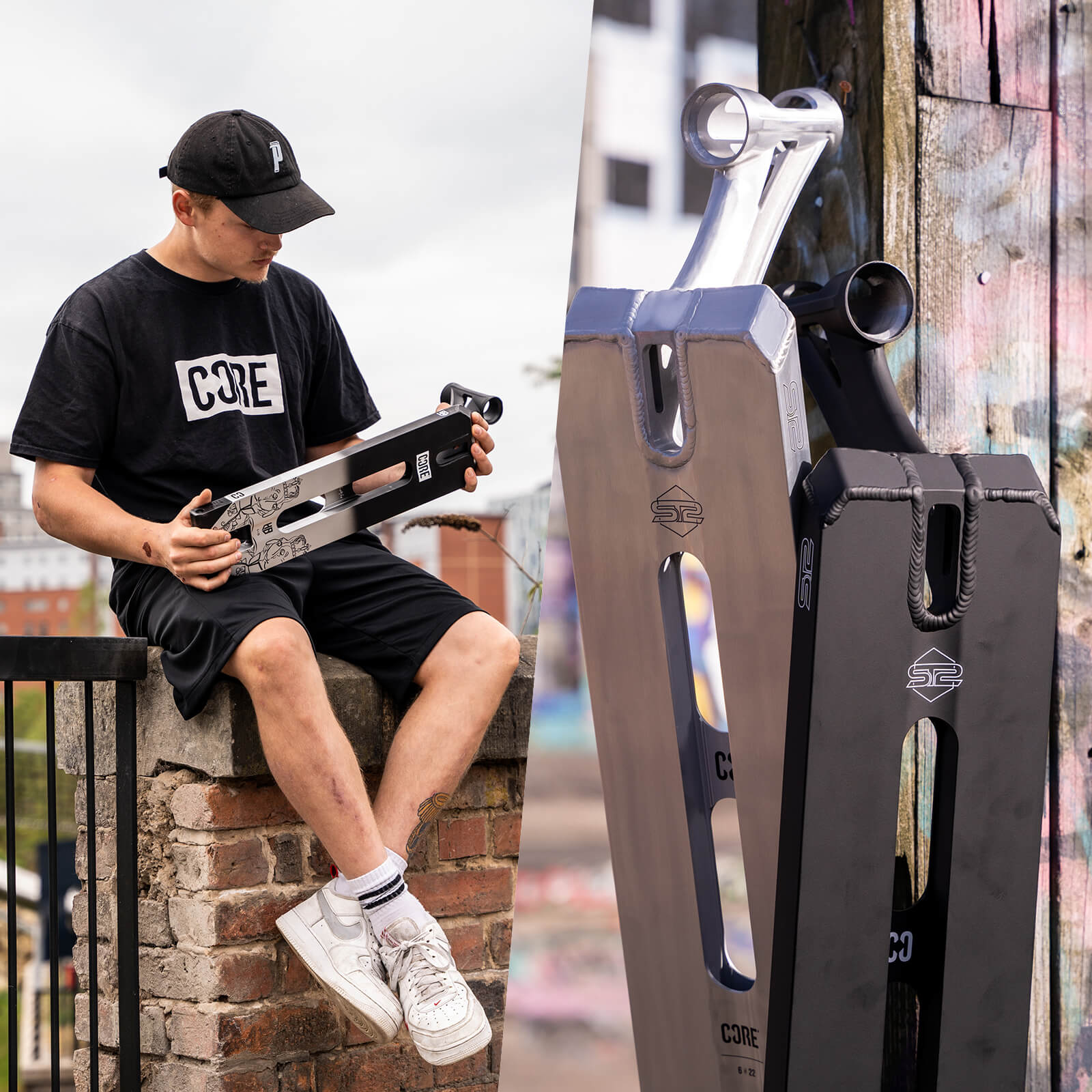 Stunt Scooter Decks 
Scooter Decks are a key component of any stunt scooter. Due to this being the heaviest part on your setup it is equally important to save weight here as well as the rest of your scooter. We have made sure all CORE decks are lightwieght without sacrificing strength. A larger deck is typically more suitable for 'STREET' riders, this makes grinds and certain tricks a lot more comfortable. This is why we Designed our ST range for this stye of riding.  On the Otherhand 'PARK' riders will mainly prefer a much lighter and smaller Stunt scooter deck so that means they can perfrom certain tricks easier. For example, a Briflip or a kickless is a lot easier with this type of deck. The CORE SL range does exacly that! 
CORE SL2 Scooter Deck
The CORE SL2 Stunt Scooter Decks is designed with skatepark riders in mind. Engineered from the ground up to be one of the lightest stunt scooters on the market you're about to unlock all those tricks you've been trying! Due to the use of 6061 Aluminum (the stuff they make space ships from) you know it's going to be super strong and light. While every aspect of this scooter has been custom-tooled by us with the sole purpose of skatepark riding. Pair this Stunt Scooter deck with a set of our CORE Titanium bars for the ultimate lightweight setup.
CORE ST2 Scooter Deck
The CORE ST2 Stunt Scooter Decks features a lightweight design to help increase riding performance. Because of the 5.7 wide x 22 long deck we Optimizise footspace. As a result of the 2 weight-saving cutouts across the center of the deck, this thing is hella light!  A flush blunt plate for easier slides on those nose blunts and grinds. Tightening your scooter has never been easier. Because of the intergrated Boxed end pegs sytem, you only need one 6mm allen key!