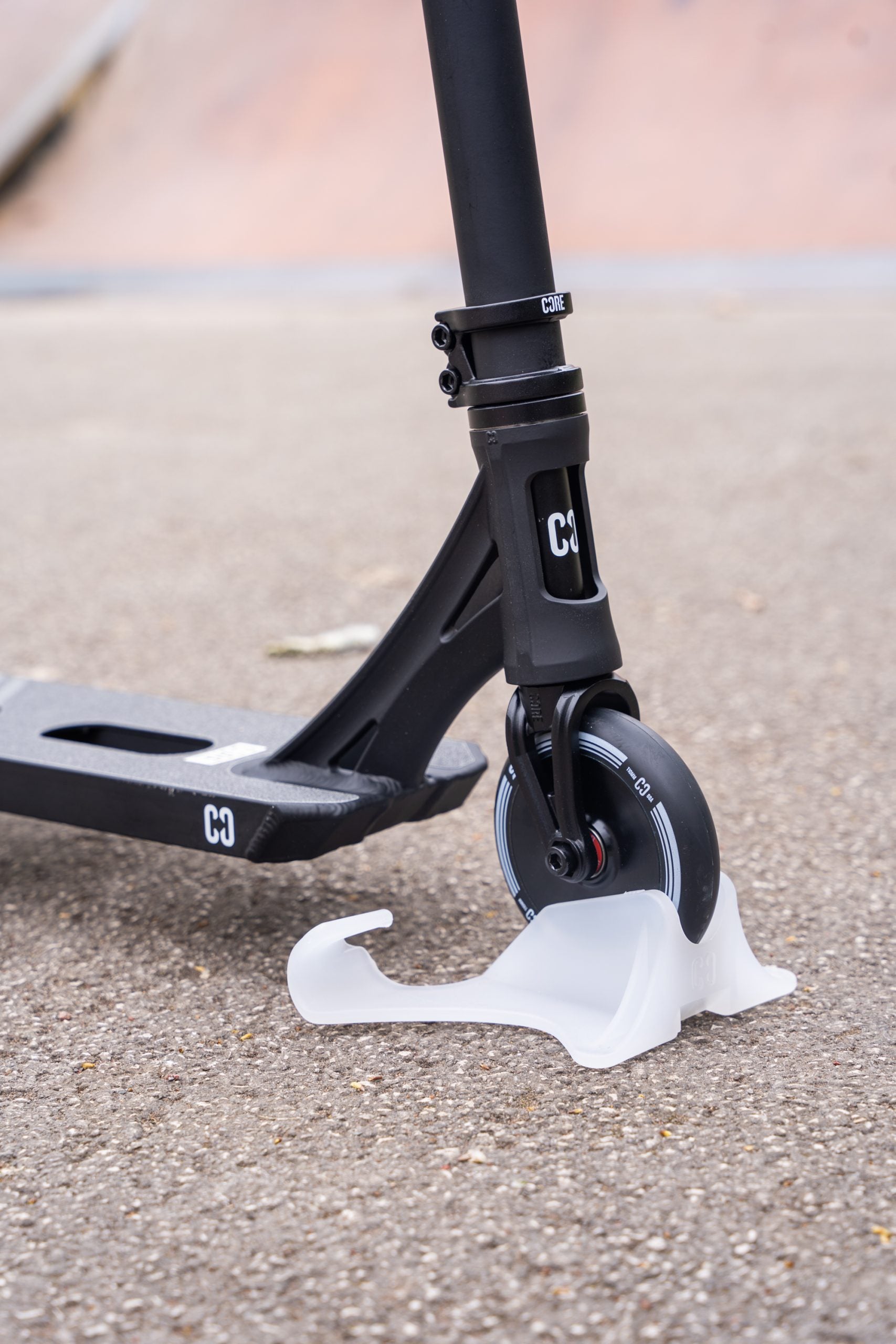 CORE Scooter Wall & Floor Stand Features
Compatible with 99% of scooters
Fits 24mm wheels (standard size)
Fits 30mm wheels (big wheels)
Hangs on the wall using handlebars
Dual purpose
High quality injection molded plastic
Logos embossed into the stand
Drill holes pre-molded
Easy Scooter Storage Solution
Level up your scooter storage game with the CORE Scooter Wall & Floor Stand! Say goodbye to tripping over scooters scattered on your floor. We've got the perfect solution for you.
Dual Purpose Scooter Stand (Floor & Wall)
Our scooter stand is compatible with a whopping 99% of scooters out there. Whether you're rolling on standard-sized 24mm wheels or rockin' the big 30mm wheels, we've got you covered.
Hang 'em high, hang 'em proud! Our stand knows how to make an entrance. It elegantly hangs on your wall, utilizing those handlebars like a boss. Garage, shed, or even your bedroom—wherever you want to showcase your scooter, this stand is up for the task. Oh, did we mention it doubles as a floor stand too? Versatility at its finest!
Crafted with love and high-quality injection molded plastic, this stand is as sturdy as it gets. No flimsy stuff here! Our logo is embossed into the stand because, hey, even scooter stands deserve a little extra style.
Drill? What drill? We've got you covered there too! The drill holes are pre-molded, saving you the hassle. Just grab your trusty drill and get ready for some seamless scooter-hanging action.
And when it comes to storage solutions, we don't mess around. Our CORE Scooter Wall & Floor Stand is your scooter's new BFF, ensuring it stays out of your way when you're not tearing up the streets. Embrace the organized life, my friend.
*Psst! Remember, when you're drilling the scooter stand into plasterboard or masonry, be sure to use wall plugs. They're not provided, but we know you've got this covered.
Upgrade your scooter storage game today and transform your space into a playground of order and fun with the CORE Scooter Wall & Floor Stand. Your scooter will thank you, and so will your toes!
*When drilling scooter stand to plasterboard or masonry make sure you use wall plugs. Not provided.